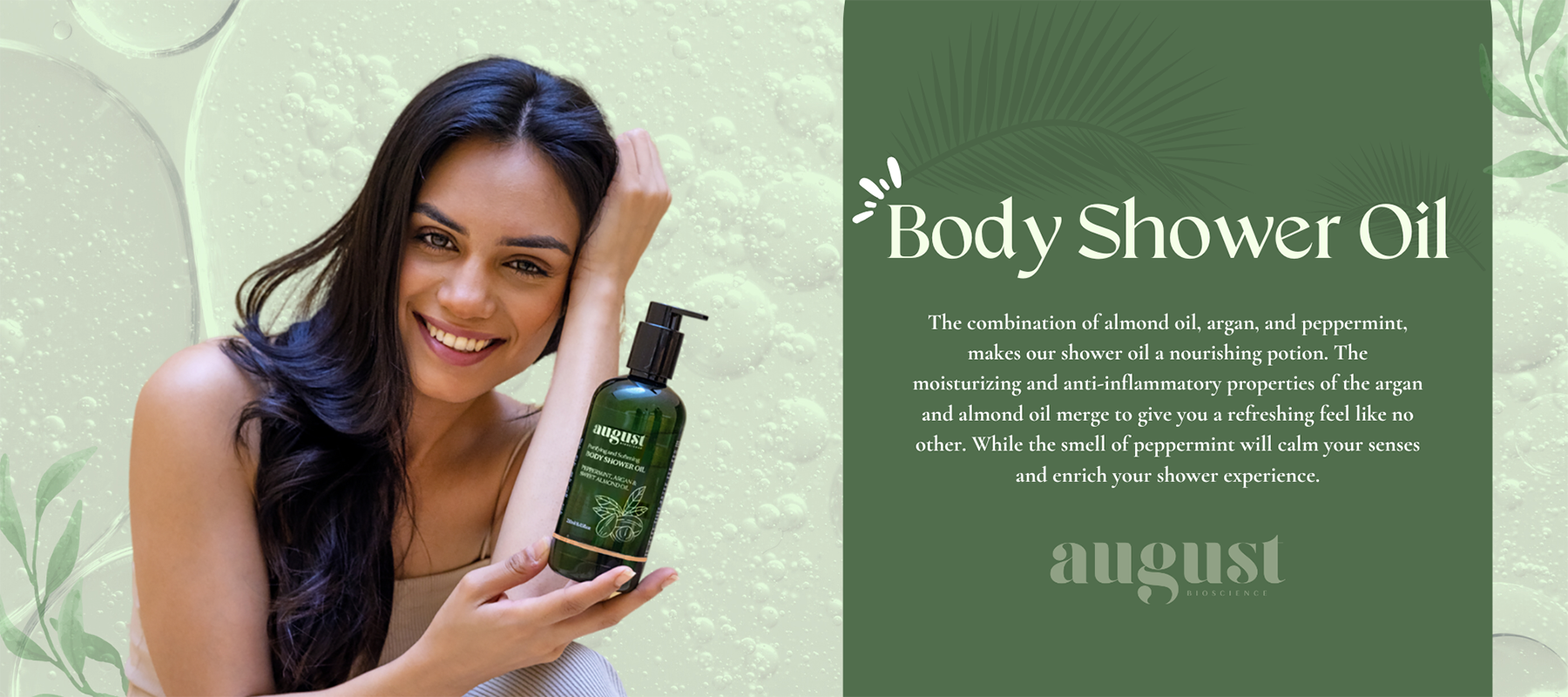 The Ultimate Guide to a Peppermint, Argan & Sweet Almond Oil Body Shower Oil
Occasionally, people experience dry skin, especially during the chilly winter months. There are numerous alternatives to counter this winter-induced dryness. Some people prefer using moisture-loaded creams, lotions, and gels to recoup the lost moisture. Then some go a step further and take care of dry skin right in the daily shower regimen. Gentle and moisturising body washes to cleansers; there are many go-to choices in this regard. One more shower regime doing the rounds amongst personal case aficionados is 'Shower Oil'.  Yes, you heard that right, 'Shower Oil'. 
Washing your skin with oil is not counterintuitive. In addition to moisturising and cleansing the skin, a body shower oil helps preserve the skin's natural defence against infections. A Body Shower Oil leaves skin feeling soft, supple, and revitalised. Although the question remains; what is a body shower oil used for and what are the shower oil benefits:
Shower oils, especially those infused with Almond Oil for the body are products that can be used instead of (or in conjunction with) shower gel. They have the same purifying and cleansing properties as soap, but with fewer drawbacks. 
Additionally, there is no need to worry about residue. Shower oils rinse off similarly to shower gels or body washes, leaving nothing behind but soft, supple, and hydrated skin. Shower oils perform two essential functions in one simple step- That's right! They cleanse and moisturise. Not only does this save time that everybody has a dearth of, but it also saves money!

Peppermint, Argan Almond Body Shower Oil from August Bioscience is one unique plant-to-bottle formulation in the shower oil category. This Chemical Free Body Shower oil is a powerful blend of moisturising and anti-inflammatory properties derived from a potent combination of argan and almond oil. While the smell of peppermint calms your senses and enriches your shower experience, the argan and almond oil blend offers much-needed nutrients and hydration.
Originating in Morocco, people have used Argan Oil for centuries as a time-tested skincare regime. Argan Oil is neither too heavy nor too light, making it ideal for all skin types. It contains Omega-3 essential Fatty Acids, Vit E, and Linoleic Acids, all of which work in an integrated fashion to lightly moisturise the skin, soothe those stubborn dry patches, and mitigate acne.
It indeed is nature's nurturing, protective superfood for your skin. Peppermint, Argan & Sweet Almond Body Shower Oil helps protect against environmental damage, prevents premature ageing, reduces dark spots, and promotes healthy and glowing skin.
Tiny, mighty, and oh-so-skintertaining. These three adjectives are ideal for describing almonds. To begin with, you may be wondering what "sweet" almond oil is. Well, there is bitter almond oil as well. While bitter almond oil is widely used to impart aroma and flavour, sweet almond oil is the skin's best friend forever. Sweet almond oil in Peppermint is a rich source of nutrients such as Vitamin E, vitamin A, protein, potassium, and zinc. Sweet Almond Oil also reduces the appearance of dark spots, improves skin texture, and keeps skin super hydrated. 
Our Peppermint Oil infused Body Shower Oil is known to be extremely refreshing and the Argan Oil simply feels like heaven once used. 
Leave a comment