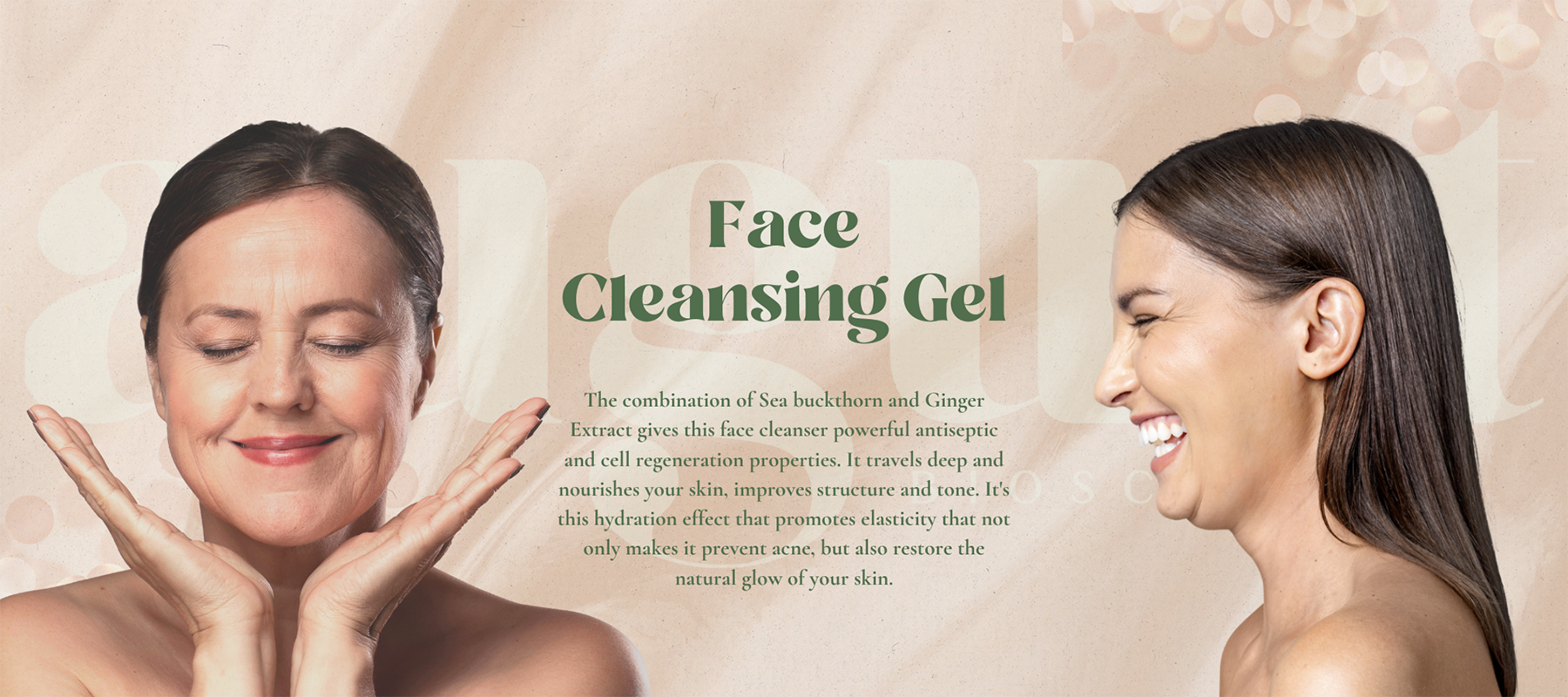 Discover the Power of Sea Buckthorn & Ginger Extract Face Cleansing Gel for Acne Free & Glowing Skin
Cleansers for the face!! What? You're probably wondering what they are and why you should use them when you already use face wash. Well, you must investigate why they are gradually becoming an essential element of every skincare enthusiast's skin-care regimen!!

Simply, facial cleansers are intended to deep wash the skin and purify it. Face Cleansing is an important step of a good skincare routine because it aids in the removal of excess oil, makeup residue, sweat, and grime. Cleansers aid in the removal of dead skin cells and the unclogging of pores. Their major role is thus to cleanse your skin without exfoliating the skin's outermost layers. It revitalises the skin and allows it to breathe. It also prepares your skin for your post-cleansing beauty routine by providing a clean basis (believe me your skincare products and makeup require a clean canvas to work their magic). Different people have different skin kinds, and each skin type has different demands. There are different facial cleansers available, making it difficult to select the ideal one. For example, a cleansing gel for combination skin or a face cleanser for oily skin. Understanding the distinctions between them will enable you to choose the finest for your skin. August Bioscience Face products will help you do just that.
If you're unclear about your skin's washing requirements, here's all you need to know about the face cleansing gels that are flooding the skin care aisle and how to use cleanser gel:
There are numerous sorts of facial cleansers on the market. Choose the ideal one for your skin type and lifestyle. Cleansers include wipes, micellar waters, foamy gels, creams, balms, and oils. Most contaminants and cosmetics that come into direct touch with our skin are not water-soluble, and hence water alone is insufficient to remove them. Skin cleansers should ideally remove impurities trapped in sebum, oil, and dead skin cells while not damaging or irritating the skin.

Remember to use our cleansing gel for your face every night before bed, as well as in the morning, to remove any toxins your skin eliminates while you sleep. We perspire and our pores secrete oil overnight, resulting in supple and shiny skin in the morning. It is critical to remove all debris, pollution leftovers, and makeup before going to bed so that your skin can breathe and regenerate itself.

Natural facial cleanser gels are becoming increasingly popular in facial cleansing procedures. Our ginger face wash packed with natural plant-to-bottle skin revitalising components, these cleansers are not only fantastically skintertaining' (Yes!! Your skin deserves some fun) but also the utmost care for Mother Earth with their chemical-free and low foaming compositions.
Tempted?  August Bioscience's invigoratingly crafted Sea Buckthorn & Ginger Gel Face Cleanser formulated using the choice of Sea Buckthorn berries and the magical antiseptic properties of ginger extract.

The use of Sea Buckthorn berries as a natural skincare regimen date back to ancient times.  It is derived from the berries, leaves, and seeds of the Hippophae rhamnoides (sea buckthorn plant), a tiny shrub native to the northwest Himalayas that grows at high altitudes. Abundance in antioxidants, phytosterols, carotenoids, and vitamins E and K, all of which work cohesively as a system to protect the integrity of your skin and promote its renewal are sea buckthorn face wash benefits.
The Sea Buckthorn cleanser by August Bioscience uses berries that help stimulate cell turnover and boost the skin's natural cell regeneration mechanism. Research suggests that linoleic acid (LA) and gamma-linolenic acid (GLA) present abundantly in Sea Buckthorn extract may help reduce acne, psoriasis, dry or scaly skin, and may even cure eczema.  In addition, compounds found in sea buckthorn oil show promising results in protecting the skin from the sun's harmful UV rays.
Infused with the magical antiseptic properties of Ginger extract, the bioactive agents in Sea Buckthorn & Ginger Extract Face Cleansing Gel penetrate deeper into the skin leaving it soft, supple, and nourished. When used consistently, these bioactive agents not only visibly improve skin elasticity and acne but also restore and replenish skin hydration. The benefits of ginger on the face makes our cleanser stand out in the market.

What are you waiting for? indulging in August Bioscience's prowess of creating this must-have rejuvenating Sea Buckthorn & Ginger Extract Face Cleansing Gel and saying goodbye to your skin-care worries.
Leave a comment